Our upcoming St. Agatha Emmaus Retreat for Men.
April 26, 27 & 28, 2024
Our next retreat will be April 26, 27 and 28, 2024 language to be determined. Retreat begins at 6:30 p.m. on Friday and ends on Sunday at 3:30 p.m. with the closing Mass at St. Agatha Catholic Church 1111 SW 107th Avenue Miami to be announced. For more information, email us at: info@stagathaemmaus.org
WHY EMMAUS?
We all need to get away from the bustle of today's world. This is your opportunity to set aside time for yourself to reflect, share, and learn about Jesus.
WHAT IS EMMAUS?
It is a Christian retreat organized by the men of this parish, where they will spend the weekend with new friends in the presence of the Lord. Emmaus gets its name from the story in Luke 24:13-35, in which Luke tells the story of the first Easter evening when the risen Christ appeared to two disciples who were walking together on the road from Jerusalem to Emmaus.
Like most people who are blinded by concern for their own immediate problems, the sadness and hopelessness of these two disciples seemed to prevent them from seeing God's redemptive purpose in the things that had happened. And yet the risen Christ "approached and went with them," opening the disciples' eyes to his presence and kindling the fire of God's love in their hearts.
The Emmaus movement is ecumenical. We invite and involve Christians of all denominations. Emmaus also seeks to foster Christian unity and strengthen the entire Christian community. This is one of the great strengths and joys of the Emmaus movement.
WHAT HAPPENS DURING THE WEEKEND AT THE RETREAT?
During the weekend you will listen to talks given by different men from the Parish… there will be no lectures or homework. The Emmaus Walk offers participants the opportunity to rediscover the presence of Christ in their lives, gain a new understanding of God's grace, and form friendships that foster faith and support spiritual maturity.
WHEN IS THE RETREAT?
The retreat will begin promptly at 6:30 p.m. on Friday and will conclude at approximately 3:30 p.m. Sunday. The closing Mass will be at St. Agatha Catholic Church to be announced. More information will be provided at the retreat when the closing mass will take place. Please be sure to invite your family to the closing mass.
WHERE IS THE RETREAT?
The retreat will take place at the MorningStar Renewal Center, located at 7275 S.W. 124th Street in Pinecrest. Take US-1 to S.W. 124th Street. Head East at S.W. 124th Street to 73rd Avenue. MorningStar will be on the left (north) side. Google Maps link
HOW MUCH DOES IT COST?
The cost is $125.00. Can be paid by check written out to "St Agatha Emmaus". If you would like to attend the retreat but cannot afford it, feel free to contact us to discuss other options.
WHERE TO TURN IN APPLICATION?
Once the application is completed, please make sure to either drop it off at St. Agatha Catholic Church Rectory located at 1111 SW 107th Ave in Miami or send it via text to (786) 547-4358 scanned (or photographed) and e-mailed to ictonarely@gmail.com.
ADDITIONAL INFORMATION
The Emmaus team is delighted to have you join us for a weekend of reflection and renewal. For your information, meals and snacks will be served Friday through Sunday. You must leave work by 6:30 p.m. on Friday and pick it up before 3:30 p.m. on Sundays at the MorningStar Renewal Center (7275 SW 124th Street Miami, Florida). If you need transportation to and from the retreat house, please let us know and we will help you make the necessary arrangements. Parking is available at MorningStar.

Don't forget to bring personal items such as soap, shampoo, deodorant, toothbrush, toothpaste, towels, medication, pillows, or other important items. We do ask to bring fitted and flat bed sheet for twin bed. The weekend is casual and comfortable clothing. Please note that there will be no phones available during the retreat. Please leave all electronic devices such as cell phones, smartphones, media players, tablets, laptops, etc. at home. Also, drugs and alcoholic beverages are not allowed in the retreat. In an emergency only, family members may contact (786) 547-4358.
---
CONTACT US!
For any questions you may have, please do not hesitate to contact us:
David Meilan (305) 332-2105
Ignacio Tonarely (786) 547-4358
You can also email us at: info@stagathaemmaus.org
God bless you!
---
Our group photo from our last retreat on September 22 to 24, 2023.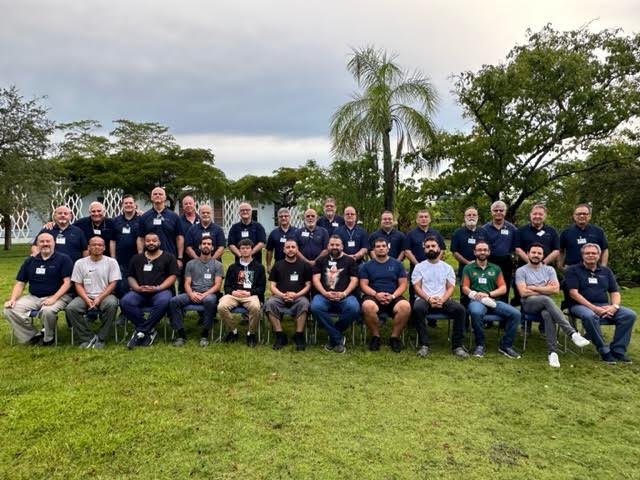 Our group photo from our retreat in April 21 to 23, 2023